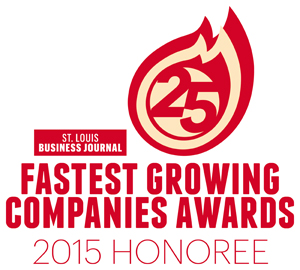 For the second year in a row, Krilogy Financial has earned a position on the annual list of Fastest Growing Privately Held Companies in St. Louis. The list, researched and compiled by the St. Louis Business Journal, ranks companies by revenue growth over a three year period from 2012-2014. Krilogy's growth rate of 140.7% places the firm at number nine on the list. Krilogy is the only St. Louis financial services firm on this year's list.
According to Krilogy President and CEO Kent Skornia, "our primary driver of growth is new asset flow and developing new client relationships. Experienced brokers we hired from big wirehouses have done an amazing job of growing their books of business … and our first young advisers, hired three to five years ago, are taking off."
Krilogy currently has 29 team members, with plans to hire three additional advisors and two staff members.
When asked recently about what makes Krilogy unique, Kent pointed to two factors: investment in clients and fostering the careers of young advisors. When clients invest for their future, so does Krilogy, which means finding the right results driven talent and latest technology to track a client's financial health. And fostering the careers of young advisors ensures long-term sustainability in the financial services industry. Their unique program, called Krilogy Advisor Development System (KADS), creates a structure where young team members learn from mentors while establishing their own client base.
Both of the points above that make Krilogy unique stem from the firm's values of dedicated, abundant, leadership where serving others is at the forefront of all they do. A genuine desire to help – regardless of if that help involves investment advice or not – is present in all team members.
The article on Krilogy's growth can be viewed on the St. Louis Business Journal website.
View the full list of the Fastest Growing Companies here.