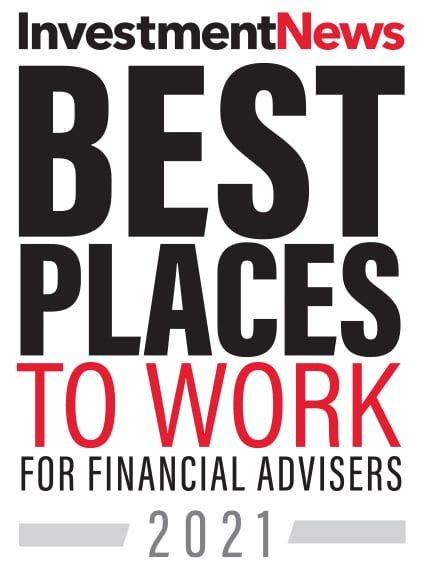 Krilogy® is pleased to announce the firm has been named to the 2021 InvestmentNews list of the Best Places to Work for Financial Advisors. The annual list honors the top 75 wealth management firms across the United States which demonstrate a commitment to workplace excellence.
InvestmentNews partnered with Best Companies Group, an independent research group specializing in employee engagement studies to identify great places to work. The selection criteria involved a multi-step process which included a comprehensive submission detailing workplace culture, values, benefits and recognition programs offered by each nominated firm. This was followed by an employee survey to gather quantitative data and assess team member satisfaction and engagement.
"Our values of dedication, abundance and leadership are the soul of this organization," said Kent Skornia, President and CEO. "I'm never shy about expressing how proud I am of the Krilogy® team, who embrace these values every day, serve each other, and impact lives. Together, we've created an environment that people want to be a part of. It is truly an honor to earn this recognition as one of the country's best places for advisors to work."
Since its founding in 2009, Krilogy® has won several awards for its workplace culture. The firm has been a multi-year recipient of the St. Louis Business Journal's Best Places to Work, and earned the Advancement of Women Award in 2020 and the Best Places to Work for Young Professionals in 2018. Entrepreneur Magazine has also honored Krilogy® with the Top Company Cultures award in 2017 and 2018.
"We've all seen the value of a great work culture over the past year, and InvestmentNews is excited to once again recognize those firms which are taking a lead in providing great financial advice and being a great place to work," said George Moriarty, InvestmentNews Chief Content Officer. "These firms are leading the industry in developing best-in-class human resource practices."
Krilogy® has experienced rapid growth in recent years which has only bolstered the firm's commitment to its culture of service and teamwork. Veteran advisors find themselves with an extensive support system in place, allowing them to focus on their practices and enhance their level of client service. Those new to the industry know they can call on the experience of any team member and receive the support they need to build a flourishing practice.
In addition to growing the firm's team of advisors, Krilogy® has significantly expanded its teams of wealth service managers, investment analysts and portfolio strategists to enhance support of clients' wealth management strategies.
"The Krilogy® team is made up of extremely talented and individuals who offer intelligent guidance for our clients' sophisticated wealth planning needs," said Skornia. "The enthusiasm and commitment they demonstrate each day is amazing. It's energizing to be part of this team, and I congratulate all of the Krilogizers for making this such a great place to work."
For more information about the InvestmentNews 2021 75 Best Places to Work for Financial Advisors, please visit Investmentnews.com.
About Krilogy®:
Krilogy® is an independent wealth management firm known for putting in relentless effort to develop strategies and manage clients' wealth, fostering a sense of confidence and readiness for the future. Founded in 2009, the firm takes an institutional-style approach, and has a disciplined, dynamic rebalancing process that leads to less volatility in returns. From 2014 through 2018, Krilogy® was named to the St. Louis Business Journal's list of the Fastest Growing Companies in the region, as well as the INC 5000 list of the country's fastest growing companies from 2014-2020. The firm was named among St. Louis' "Best Places to Work" in 2018 by the St. Louis Business Journal for the fifth time. Krilogy® has also been honored by the St. Louis Business Journal with the publication's "Best Places to Work for Young Professionals" in 2018, and the "Advancement of Women" award in 2020. The firm was recognized by the Women's Foundation of Greater St. Louis in 2020 for demonstrating excellence in workplace gender equity. In 2021, the firm earned a spot on InvestmentNews' annual list of the Best Places to Work for Financial Advisors. In 2017 and 2018, Krilogy® received a Top Company Cultures award from Entrepreneur Magazine. Krilogy® was also listed in the 2016, 2018, 2019 and 2020 Financial Times FT 300 list of the country's top Registered Investment Advisory (RIA) firms. For additional information and disclosures about awards and honors received by Krilogy® and its advisors, please click here or call 314.884.2800.
About InvestmentNews:
InvestmentNews is the leading source for news, analysis and information essential to the financial advisory community. Since 1998, our standard of editorial excellence and deep industry knowledge has allowed us to educate, inform and engage the most influential financial advisers. Through a weekly newspaper, website, newsletters, research, events, videos and webcasts, InvestmentNews provides exclusive and up-to-the-minute news, as well as actionable intelligence, that empowers financial advisers to serve their clients and run their businesses more effectively whenever, however and wherever they need it.
The InvestmentNews headquarters are located in New York, with offices in Washington D.C. InvestmentNews is part of Bonhill Group.