Krilogy®, a St. Louis-based wealth management firm with nearly $2 billion in assets, is pleased to announce that Wealth Advisors Nathaniel Gilman and Lucas Nikolaisen, and Wealth Services Manager Dan Reilly have each earned their CERTIFIED FINANCIAL PLANNER™ (CFP®) designation from the Certified Financial Planner Board of Standards. The trio represents the latest addition to the long list of Krilogy team members to hold this designation.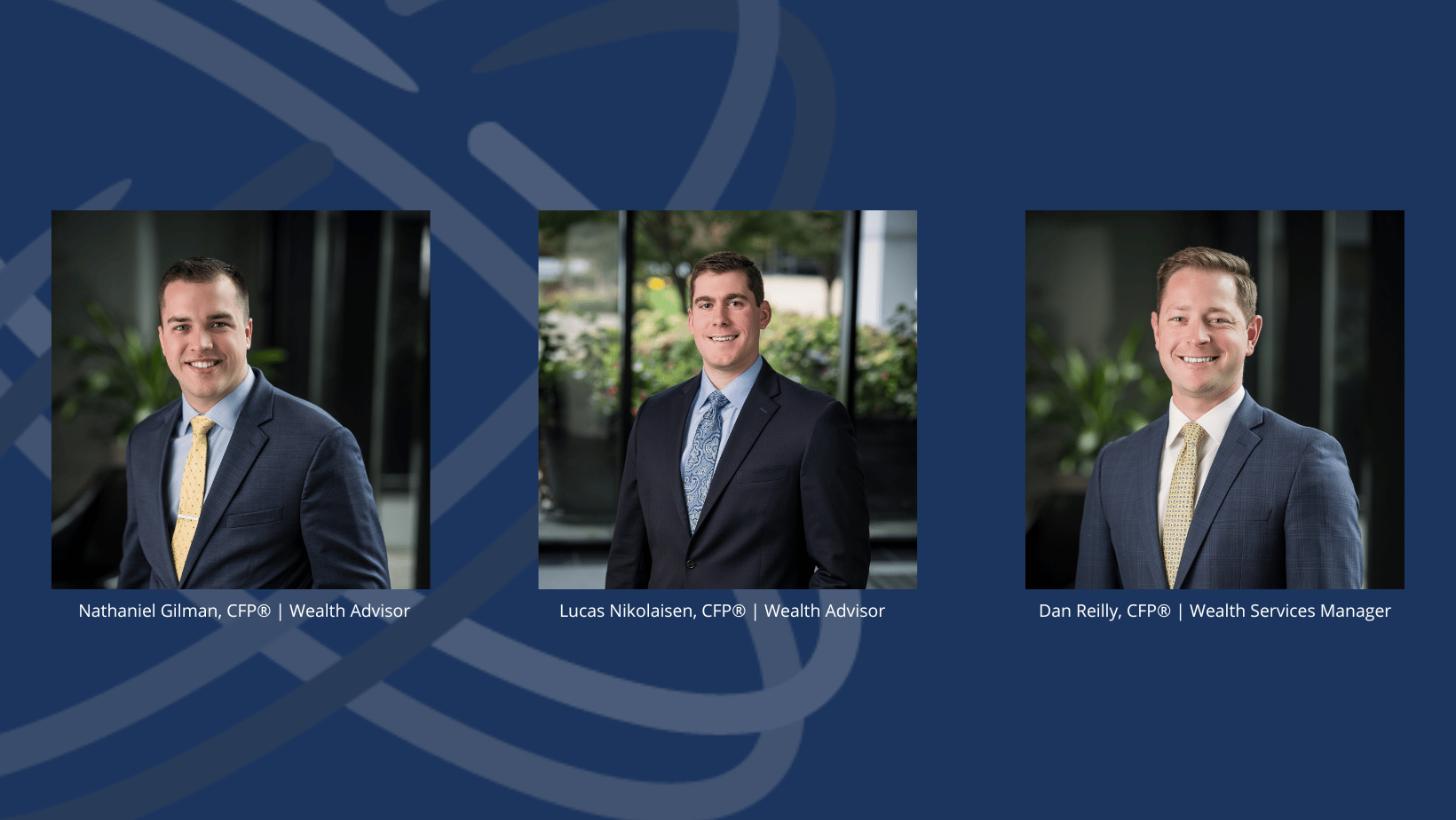 Gilman joined Krilogy® in 2016 as a member of the firm's St. Charles County team, and focuses his practice on helping corporate executives define and achieve their financial goals and personal dreams. Nikolaisen began his career at Krilogy® in 2018 after developing a passion for finance through his two college internships. He especially enjoys working with young professionals, guiding and educating them on investment strategies. Reilly joined Krilogy® full time in 2017 after interning with the firm in 2015. He leverages Krilogy's teamwork and technology to align investment strategy with long-term planning to help clients achieve their goals.
According to the CFP Board's website, the CFP® designation is the "Standard of Excellence" for financial planners. Professionals who pursue the CFP® are required to complete college or university-level coursework through a CFP Board Registered Program. The curriculum covers eight Principal Knowledge Domains including Professional Conduct and Regulation, General Principals of Financial Planning, Risk Management and Insurance Planning, Investment Planning, Tax Planning, Retirement Savings and Income Planning, Estate Planning and the Psychology of Financial Planning. Candidates are also required to fulfill a minimum of 6000 hours of professional experience, and must pass a rigorous exam to assess critical thinking and problem-solving capability to apply concepts to real-life planning scenarios.
CFP® professionals also agree to meet ongoing continuing education requirements and to uphold CFP® Board's Code of Ethics and Professional Responsibility, Rules of Conduct, and Financial Planning Practice Standards.
"Lucas, Nathan and Dan have been hyper-focused on pursuing deeper education through the CFP certification process over the last two years," said Krilogy® Partner Nathan Holt, CFP®. "Their ability to bring value to their clients and teammates, while studying and enhancing their planning skills has been felt across Krilogy®.  We made a focused effort six years ago to invest heavily in our teammates to pursue enhanced education across a number of different disciplines.  We're thrilled that Lucas, Nathan and Dan have completed this step in their journey and are excited about what comes next in their careers."
About Krilogy®:
Krilogy® is an independent wealth management firm known for its relentless effort to develop strategies and manage clients' wealth, fostering a sense of confidence and readiness for the future. Founded in 2009, the firm takes an institutional-style approach, and has a disciplined, dynamic rebalancing process that leads to less volatility in returns. From 2014 through 2018 and again in 2021, Krilogy® was named to the St. Louis Business Journal's list of the Fastest Growing Companies in the region, as well as the INC 5000 list of the country's fastest growing companies from 2014-2022. The firm was named among St. Louis' "Best Places to Work" in 2021 by the St. Louis Business Journal for the sixth time. Krilogy® has also been honored by the St. Louis Business Journal with the publication's "Best Places to Work for Young Professionals" in 2018, and the "Advancement of Women" award in 2020. The firm was recognized by the Women's Foundation of Greater St. Louis in 2020 and 2022 for demonstrating excellence in workplace gender equity. In 2021, the firm earned a spot among InvestmentNews' annual list of the Best Places to Work for Financial Advisors. Inc. Magazine named Krilogy® among the nation's Best Workplaces and the St. Louis Post-Dispatch recognized the firm among region's Top Workplaces in 2021 and 2022.  In 2017 and 2018, Krilogy® received a Top Company Cultures award from Entrepreneur Magazine. Krilogy® was also listed in the 2016, 2018, 2019 and 2020 Financial Times FT 300 list of the country's top Registered Investment Advisory (RIA) firms. For additional information and disclosures about awards and honors received by Krilogy® and its advisors, please click here or call 314.884.2800.