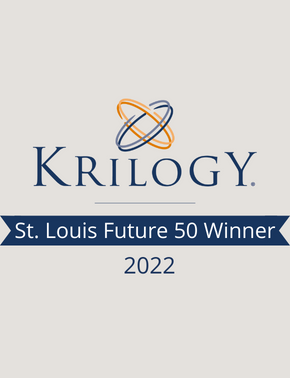 Each year, St. Louis Small Business Monthly publishes its Future 50 list, which honors 50 businesses in the region who are making an impact and poised for a future of growth. Krilogy® is pleased to announce that the firm has earned a position on the 2022 list, placing it among an elite group of companies across the St. Louis area playing a critical role in building the region's economy and communities.
Krilogy® was recognized this year for the firm's continued track record of sustainable growth since its founding in 2009, as well as the commitment to adding services such as tax and estate planning, and management of company sponsored retirement plans.
"We've always believed in building a firm to care holistically for each client's financial journey, adding services that continue to simplify that journey and arm them with information needed to make critical decisions they face along the way," said Kent Skornia, President and CEO of Krilogy®. "We know we are building the wealth management firm of the future, giving clients an experience not available elsewhere because we have all the key players in-house to provide guidance on their entire financial picture. That means clients can meet with their wealth advisor, tax preparer and estate planning professional all in the same room. That doesn't happen at other firms, but it happens at Krilogy® because it's the right thing to do and it makes a difference in clients' lives."
Following the addition of Krilogy® Tax in 2017 and Krilogy® Law in 2020, the firm launched (K) Plans, an advisory group within Krilogy® focusing exclusively on company sponsored retirement plans such as 401(k), SIMPLE IRA's and others. This is a very niche and very complex area of wealth management that is served by fewer than 1% of advisors in the United States. (K) Plans is led by Krilogy® Partner Matthew Haywood, AIF® CPFA® who joined Krilogy® in 2010 and has dedicated most of his career to supporting business owners and administrators of company sponsored retirement plans. Haywood and his team also offer their knowledge and time to plan participants as they navigate available options in their plans.
Each addition to Krilogy's service offering is deliberately designed to add value to the client experience, helping them gain confidence and get things done – things that are likely standing in the way of reaching their goals, that they may be putting off due to complexities involved.
"When you help a client see the whole picture, understand how decisions impact each piece of the plan, and demystify things they may be avoiding, that's when they can begin to feel a sense of accomplishment," said Skornia. "Every member of the Krilogy® teams believes in this high level of service, custom tailored for each client. Their hard work and daily actions make our growth possible, and I'm proud of the team for earning this honor."
Krilogy® manages nearly $2 billion in assets and has three locations in the St. Louis area which serve clients across the country.
About Krilogy®: Krilogy® is an independent wealth management firm known for its relentless effort to develop strategies and manage clients' wealth, fostering a sense of confidence and readiness for the future. Founded in 2009, the firm takes an institutional-style approach, and has a disciplined, dynamic rebalancing process that leads to less volatility in returns. From 2014 through 2018 and again in 2021, Krilogy® was named to the St. Louis Business Journal's list of the Fastest Growing Companies in the region, as well as the INC 5000 list of the country's fastest growing companies from 2014-2022. The firm was named among St. Louis' "Best Places to Work" in 2021 by the St. Louis Business Journal for the sixth time. Krilogy® has also been honored by the St. Louis Business Journal with the publication's "Best Places to Work for Young Professionals" in 2018, and the "Advancement of Women" award in 2020. The firm was recognized by the Women's Foundation of Greater St. Louis in 2020 and 2022 for demonstrating excellence in workplace gender equity. In 2021, the firm earned a spot among InvestmentNews' annual list of the Best Places to Work for Financial Advisors. Inc. Magazine named Krilogy® among the nation's Best Workplaces and the St. Louis Post-Dispatch recognized the firm among region's Top Workplaces in 2021 and 2022. In 2017 and 2018, Krilogy® received a Top Company Cultures award from Entrepreneur Magazine. Krilogy® was also listed in the 2016, 2018, 2019 and 2020 Financial Times FT 300 list of the country's top Registered Investment Advisory (RIA) firms. For additional information and disclosures about awards and honors received by Krilogy® and its advisors, please click here or call 314.884.2800.