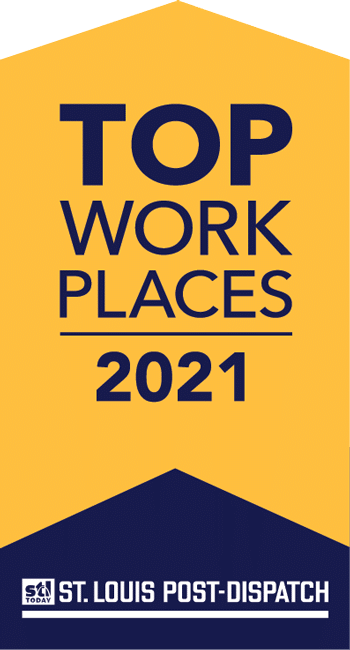 Krilogy® has received its third award of 2021 in recognition of the firm's workplace culture, earning a Top Workplaces Award from the St. Louis Post-Dispatch. Earlier this year, Inc. Magazine named Krilogy® among the Best Workplaces in the US, and InvestmentNews ranked Krilogy® among the country's Best Places to Work for Financial Advisors.
"When Krilogy® was founded in 2009, we had a specific vision to create an environment where people would be excited to come to work, and clients would feel they were at home," said Kent Skornia, Krilogy® President and CEO. "As we've grown over the years, we've attracted amazing professionals who are committed to this vision and work together to support everyone's success. The team leverages the best-in-class investment platform, technology and organizational structure we've put in place that allows advisors the time and resources to manage clients' wealth and care for their financial wellbeing. I'm honored by this most recent recognition, and congratulate the entire team for their dedication, abundance, leadership and respect."
The Top Workplaces award is based solely on employee feedback gathered through a third-party survey administered by employee engagement technology partner Energage LLC. The anonymous survey uniquely measures 15 culture drivers that are critical to the success of any organization: including alignment, execution, and connection, just to name a few.
"During this very challenging time, Top Workplaces has proven to be a beacon of light for organizations, as well as a sign of resiliency and strong business performance," said Eric Rubino, Energage CEO. "When you give your employees a voice, you come together to navigate challenges and shape your path forward. Top Workplaces draw on real-time insights into what works best for their organization, so they can make informed decisions that have a positive impact on their people and their business."
Since 2009, Krilogy® has continued to earn recognition both nationally and in the St. Louis region. The firm is a multi-year recipient of Entrepreneur Magazine's Top Company Cultures Award, as well as the St. Louis Business Journal Best Places to Work Award. These honors are the result of employee surveys which measure areas such as engagement, benefits, satisfaction, diversity and workplace experience.
For more information about the St. Louis Post-Dispatch Top Workplaces Award, please visit: https://topworkplaces.com/award/stltoday/2021/50-149/
About Krilogy®:
Krilogy® is an independent wealth management firm known for putting in relentless effort to develop strategies and manage clients' wealth, fostering a sense of confidence and readiness for the future. Founded in 2009, the firm takes an institutional-style approach, and has a disciplined, dynamic rebalancing process that leads to less volatility in returns. From 2014 through 2018, Krilogy® was named to the St. Louis Business Journal's list of the Fastest Growing Companies in the region, as well as the INC 5000 list of the country's fastest growing companies from 2014-2020. The firm was named among St. Louis' "Best Places to Work" in 2018 by the St. Louis Business Journal for the fifth time. Krilogy® has also been honored by the St. Louis Business Journal with the publication's "Best Places to Work for Young Professionals" in 2018, and the "Advancement of Women" award in 2020. The firm was recognized by the Women's Foundation of Greater St. Louis in 2020 for demonstrating excellence in workplace gender equity. In 2021, the firm earned a spot among InvestmentNews' annual list of the Best Places to Work for Financial Advisors, the Inc. Magazine list of the nation's Best Workplaces, and the St. Louis Post-Dispatch list of the region's Top Workplaces. In 2017 and 2018, Krilogy® received a Top Company Cultures award from Entrepreneur Magazine. Krilogy® was also listed in the 2016, 2018, 2019 and 2020 Financial Times FT 300 list of the country's top Registered Investment Advisory (RIA) firms. For additional information and disclosures about awards and honors received by Krilogy® and its advisors, please click here or call 314.884.2800.
About Energage:
Making the world a better place to work together.TM
Energage is a purpose-driven company that helps organizations turn employee feedback into useful business intelligence and credible employer recognition through Top Workplaces. Built on 14 years of culture research and the results from 23 million employees surveyed across more than 70,000 organizations, Energage delivers the most accurate competitive benchmark available. With access to a unique combination of patented analytic tools and expert guidance, Energage customers lead the competition with an engaged workforce and an opportunity to gain recognition for their people-first approach to culture. For more information or to nominate your organization, visit energage.com or topworkplaces.com.