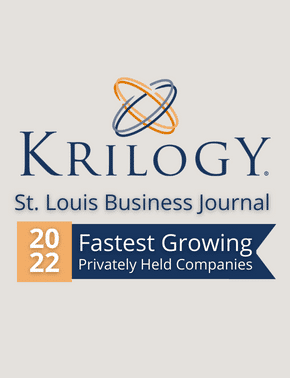 For the seventh time in firm history, Krilogy® has earned a spot on the St. Louis Business Journal's annual list of the region's fastest growing privately held companies. Krilogy® is ranked at #46 on the 2022 list, with a three-year growth rate of 59.1%.
Since its founding in 2009, Krilogy® has consistently been recognized for its growth and company culture. Honors include nine consecutive appearances on the Inc. 5000 list of the nation's fastest growing companies, as well as multiple "Best Places to Work" awards from the St. Louis Business Journal, Investment News, Inc. Magazine, Entrepreneur, and the St. Louis Post-Dispatch.
"The consistent, deliberate growth we've experienced at Krilogy is a direct reflection of our culture of teamwork and always focusing on adding value to the client experience," said Kent Skornia, President and CEO. "We've always believed in continuously building the best firm possible, caring for overall client financial wellbeing in a holistic manner and supporting each other in a workplace where we live our values of dedication, abundance, leadership and respect each day. It's led to a team committed to building client confidence, helping clients feel ready for whatever the markets or life might bring."
According to Skornia, Krilogy® delivers the most comprehensive offering of wealth services available in the region. In 2022, the firm launched (K) Plans, a division of Krilogy® focused on supporting company-sponsored retirement plans. Less than 1% of advisors nationally specialize in this space due to the complexity of regulations, employer responsibility, and knowledge of how to create the best possible scenario for employers and participants. (K) Plans advisors excel in this space.
(K) Plans is the most recent addition to Krilogy's wealth management offerings. The firm also includes a tax division, Krilogy® Tax, to develop tax efficient wealth strategies for clients, as well as an independent but affiliated law firm, Krilogy® Law, which supports clients as they develop their legacy plans.
"As a firm, we're always looking ahead to anticipate how we can best support clients on their wealth journey," said Skornia. "Our goal is to help ensure that no piece of their financial plan is overlooked, and that all the professionals involved in the management of their plan consistently collaborate to ensure the most comprehensive level of service possible is being delivered. I often ask: when is the last time your wealth manager, tax professional and estate planning attorney were in the same room together working on your plan? For most clients, it's never happened. It happens every day at Krilogy®. That's the kind of service which has led to our growth, and I'm proud of the team for all of the hard work that's resulted in exceptional client relationships, confidence and our purpose-driven growth."
Krilogy® manages $2 billion in assets for individuals, families and company-sponsored retirement plans. The firm currently has three offices in the St. Louis region and serves clients across the United States.
KEP Law, LLC d/b/a Krilogy® Law is an independent law firm affiliated with Krilogy® through common ownership. KEP Law services both Krilogy® and Non-Krilogy® clients. The choice of a lawyer is an important decision and should not be solely based upon advertisement.