Krilogy®, a St. Louis-based wealth management firm with more than $1.7 billion in assets, has announced their headquarters relocation to a 26,000 square foot office building located at 275 North Lindbergh Boulevard in Creve Coeur, Missouri. A large majority of Krilogy's nearly 60 team members have begun serving clients from the new location as of March 1, 2021.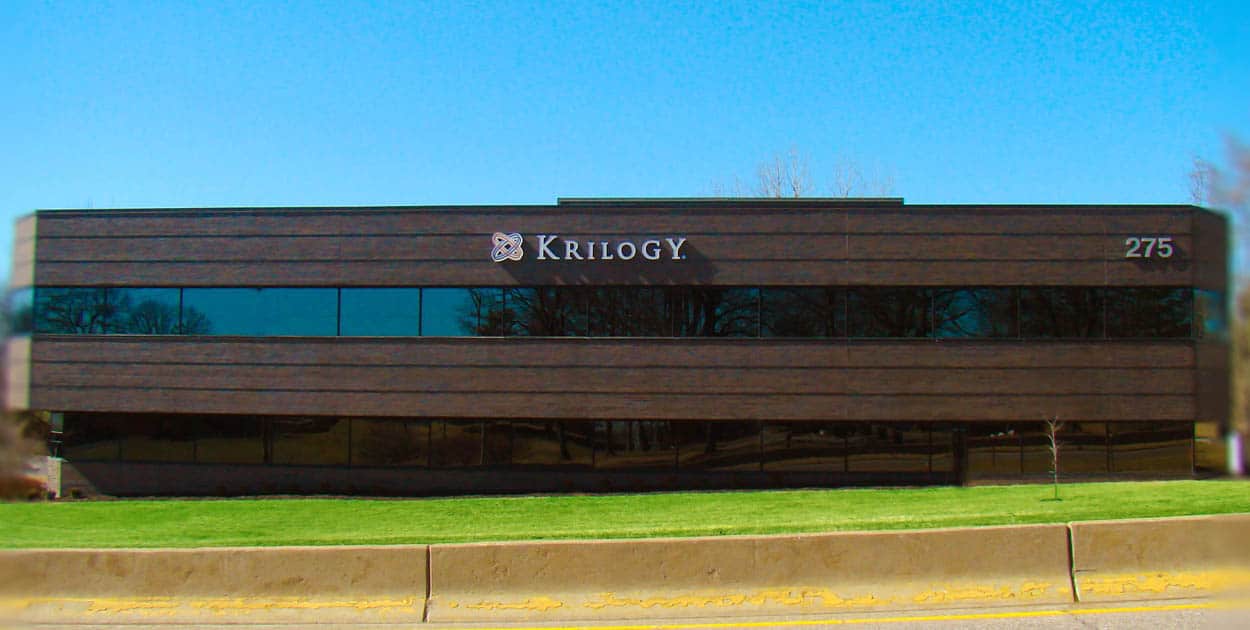 The two-story building houses Krilogy's wealth management teams, operations specialist and the investment advisory group. As a result of the move, Krilogy® has vacated its previous headquarters at 600 Emerson Road, where the firm had been located since its founding in 2009.
"Krilogy® remains focused on steady and deliberate growth which has resulted in the addition of many talented advisors, investment team professionals, and operations specialists who are continuing to add massive value to our clients," said Skornia. "We had undergone two major expansions at our Emerson Road facility to accommodate our growth. With taking ownership of this building, I look forward to our next chapter in a new space that will serve as a welcoming environment for clients, a collaborative workspace for the team and a convenient destination for all."
The Krilogy Building showcases what Skornia calls "The Krilogy Café" where clients are welcomed for a cup of coffee in the morning or a glass of wine later in the day. "We build strong and meaningful relationships with our clients and teammates and the Krilogy Café will further foster the Krilogy community," said Skornia.
Krilogy® is listed among the largest asset management firms in the area by the St. Louis Business Journal and has been named to the Inc. 5000 list of the nation's fastest growing companies since 2014. Led by its values of dedication, abundance and leadership, Krilogy® has been recognized locally and nationally for its culture. In 2020, the firm won the Advancement of Women Award from the St. Louis Business Journal and was named among the top workplaces for women by the Women's Foundation of Greater St. Louis.
In addition to advisors at its Creve Coeur headquarters, Krilogy® also has teammates who live and work in St. Charles County, St. Louis County, Dallas Texas, Raleigh North Carolina, Boise Idaho, and Venice Florida.
About Krilogy®:
Krilogy® is an independent wealth management firm known for putting in relentless effort to develop strategies and manage clients' wealth, fostering a sense of confidence and readiness for the future. Founded in 2009, the firm takes an institutional-style approach, and has a disciplined, dynamic rebalancing process that leads to less volatility in returns. From 2014 through 2018, Krilogy® was named to the St. Louis Business Journal's list of the Fastest Growing Companies in the region, as well as the INC 5000 list of the country's fastest growing companies from 2014-2020. The firm was named among St. Louis' "Best Places to Work" in 2018 by the St. Louis Business Journal for the fifth time. Krilogy® has also been honored by the St. Louis Business Journal with the publication's "Best Places to Work for Young Professionals" in 2018, and the "Advancement of Women" award in 2020. The firm was recognized by the Women's Foundation of Greater St. Louis in 2020 for demonstrating excellence in workplace gender equity. In 2017 and 2018, Krilogy® received a Top Company Cultures award from Entrepreneur Magazine. Krilogy® was also listed in the 2016, 2018, 2019 and 2020 Financial Times FT 300 list of the country's top Registered Investment Advisory (RIA) firms. For additional information and disclosures about awards and honors received by Krilogy® and its advisors, please click here or call 314.884.2800.