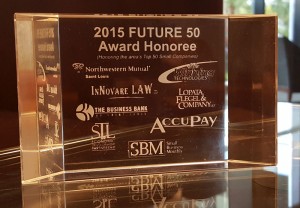 On August 19, 2015, business leaders from across the region gathered to celebrate St. Louis' Top Businesses at St. Louis Small Business Monthly's Future 50 Awards Ceremony. Krilogy Financial was honored to be recognized for the firm's growth, community involvement, and unique position in the St. Louis market.
"Krilogy has experienced a great deal of growth since our founding in 2009," said Kent Skornia, President and CEO of Krilogy. "This is the result of our belief in teamwork, supporting the accomplishment of all, and investing back into our clients. We live by the mantra that we're all in this together, so when clients invest for their future, Krilogy does too, weaving together the components to give clients a competitive advantage and investing in the people and technology to help clients manage the destiny of their financial future."
Skornia and the Krilogy team are preparing for continued growth, with goals in place to double their assets under care within five years. In addition, expansion plans are in the works, inspired by the recent opening of Krilogy St. Charles. In the coming years, at least one Krilogy office will open, with the possibility of more. Krilogy currently has 29 team members, with plans to hire three additional advisors and two staff members.
The firm is also active in the community, with each of the 29 team members contributing 15 hours per month, on average, to service and volunteerism. Recent community efforts include team participation in the May 2015 American Heart Walk, and leadership in the annual Alzheimer's Walk. Other community involvement includes leadership and support of the Gateway Dragon Boat Festival, First Tee of St. Louis, Brace for Impact, Huntington's Disease Chapter of St. Louis, St. Louis the King School, The Little Bit Foundation, and the R. Whittington Foundation.
Investment Advisory Services offered through Krilogy Financial®, an SEC Registered Investment Advisor.