Krilogy Receives a Future 50 Award from St. Louis Small Business Monthly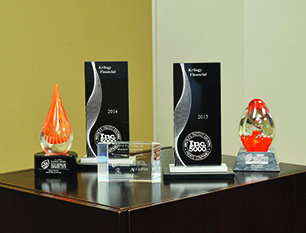 St. Louis Small Business Monthly recently honored Krilogy Financial with a Future 50 award, which recognized the firm for its growth, community involvement, and unique position in the St. Louis market.
"Krilogy's growth is a result of our belief in teamwork, supporting the accomplishment of all, and investing back into our clients,"
said Kent Skornia, President and CEO of Krilogy. "We believe that we're all in this together, so when clients invest for their future, Krilogy does too, providing the tools, technology and people to give clients a competitive advantage in managing the destiny of their financial future."
Krilogy is preparing for continued growth, with goals in place to double assets under care within five years. Earlier this year, the firm opened a new office in St. Charles, and plans to add more locations in the coming years. Krilogy also believes in community service, with each of the 29 team members contributing 15 hours per month, on average to volunteerism.
Krilogy Names New Team Lead
As the Krilogy team continues to grow, its roster of Team Leads who mentor and train new advisors is also expanding. Krilogy Advisors Matthew Haywood, is the firm's newest Team Lead. He was promoted to the position in recent weeks.
Matthew Haywood has also been promoted to Team Lead, and will mentor advisors and teammates in the Creve Coeur office. He was among the first advisors to join Krilogy, and recently earned his Accredited Investment Fiduciary® designation to better serve clients in developing employee sponsored retirement plans. "Matt is well known for his approachability and willingness to go above and beyond for clients and team members. These talents will shine and bring great value to those he mentors," said Kent Skornia. Matt is a graduate of the University of Missouri-Columbia, where he earned his Bachelor's Degree and also received his MBA from Webster University. He is active in the community, and resides in Glendale with his wife and sons.