Krilogy®, a St. Louis-based wealth management firm with more than $1.7 billion in assets, has named Steve Green, CFP®, CPWA®, Bill Pohrer, JD, CPA, CFP®, Michael Brown, CEPA, and Tom Lewis, JD, as the firm's newest partners. This year's expansion of the team of partners is reflective of Krilogy's growth, which has ushered in the opening of new locations, addition of service offerings, and significant increase in the number of advisors and team members the firm has welcomed in recent years.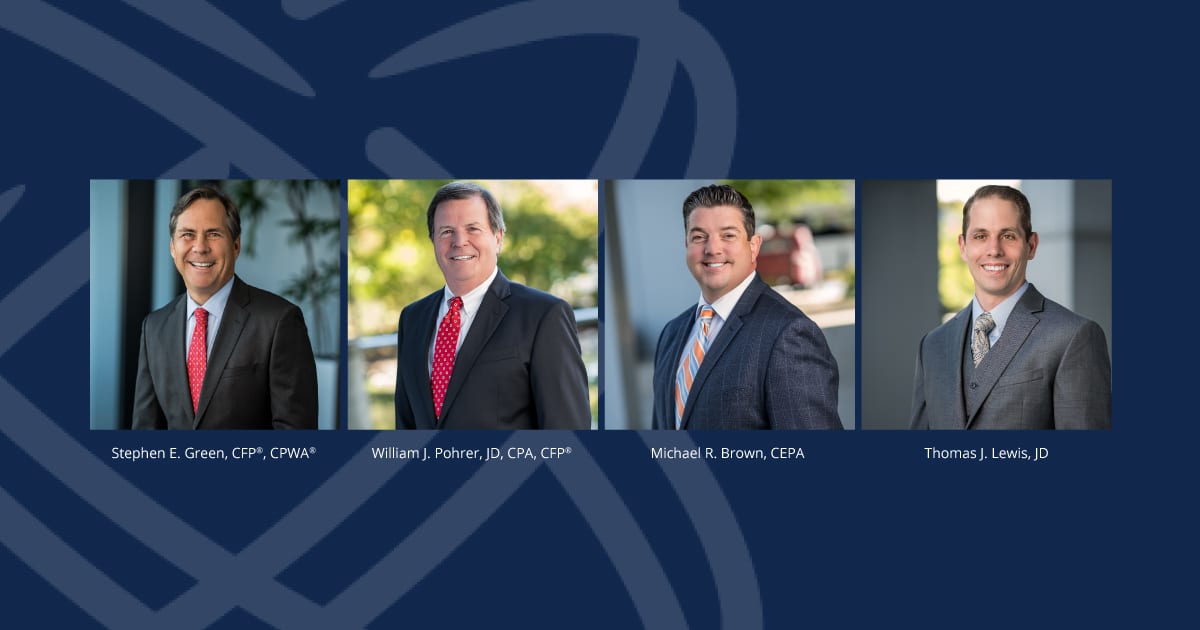 Green joined the team in 2016 when he merged the firm he had owned for eight years, OPTIMUM Wealth Management, with Krilogy®. The two firms' cultures and approach to client service aligned well, and Green saw an opportunity to embrace Krilogy's vast resources and support structure, allowing him to spend more time managing clients' wealth and building his practice.
Pohrer spent more than a decade in financial services, serving in leadership roles at both small, independent firms and large wirehouses. This experience led him to take an interest in Krilogy, calling it a "one-of-a-kind" firm where the culture of teamwork and client service have supported him to significantly grow his practice since 2013.
Brown led Krilogy's expansion into St. Charles County in 2015, building a strong team and rapidly growing the branch's assets to nearly $100 million in its first five years. He recently earned his Certified Exit Planning Advisor Designation to enhance his service to business owners. Brown holds over 25 years of experience in financial services, and has been part of the Krilogy team since 2012.
Lewis has served as Krilogy's Counsel and Chief Compliance Officer since 2016 as the firm continued its rapid growth pace and found the need for enhanced legal and compliance support. He brought a high level of experience in both areas, advancing Krilogy® into a leading position in the industry's ever-changing regulatory landscape. Lewis has also played a key role in the firm's growth initiatives, including acquisitions, the addition of high-profile team members to the firm, corporate governance, firm and affiliates' business transactions.
"All four of Krilogy's new partners have made an incredible impact on the firm, and are tremendous advocates of our values of dedication, abundance and leadership," said Kent Skornia, Krilogy® President and CEO. "I'm so proud of not only the knowledge and talent that they've brought to the firm, but also of the vision of excellence and commitment to serving others which they demonstrate each day. It's an honor to serve alongside them as leaders."
Green, Pohrer, Brown and Lewis join existing partners, Matthew Haywood, Nathan Holt, John McArthur, Patrick Monahan, J. Patrick O'Brien, Jaime Shelton, and CEO Kent Skornia on the firm's Executive Leadership team. Krilogy has 60 team members and three locations in the St. Louis area, including its new headquarters on Lindbergh Boulevard in Creve Coeur. The firm manages more than $1.7 billion in assets for families, high-net-worth individuals, trusts, and employer-sponsored retirement plans.
About Krilogy®:
Krilogy® is an independent wealth management firm known for putting in relentless effort to develop strategies and manage clients' wealth, fostering a sense of confidence and readiness for the future. Founded in 2009, the firm takes an institutional-style approach, and has a disciplined, dynamic rebalancing process that leads to less volatility in returns. Krilogy® was named to the INC 5000 list of the country's fastest growing companies from 2014-2020, the 2020 Financial Times Fastest Growing Companies in North and South America in 2020, and the St. Louis Business Journal's list of the Fastest Growing Companies in the region from 2014 through 2018. Krilogy® is also listed in the 2016, 2018, 2019 and 2020 Financial Times FT 300 list of the country's top Registered Investment Advisory (RIA) firms. The firm has named among St. Louis' "Best Places to Work" by the St. Louis Business Journal four times. Krilogy® has also been honored by the St. Louis Business Journal with the publication's "Best Places to Work for Young Professionals" in 2018, and the "Advancement of Women" award in 2020. The firm was recognized by the Women's Foundation of Greater St. Louis in 2020 for demonstrating excellence in workplace gender equity. In 2021, the firm earned a spot on InvestmentNews' annual list of the Best Places to Work for Financial Advisors. Krilogy® received the 2017 and 2018 Top Company Cultures award from Entrepreneur Magazine. In 2020 and 2021, the firm was named among the St. Louis region's Largest Asset Managers by the St. Louis Business Journal. For additional information and disclosures about awards and honors received by Krilogy® and its advisors, please click here or call 314.884.2800.