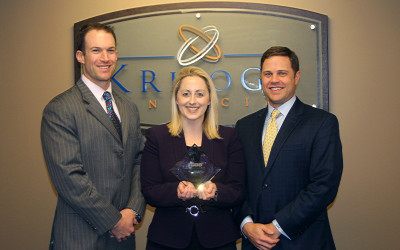 On March 4, 2016, Krilogy Financial was proudly named one of St. Louis' best places to work by the St. Louis Business Journal. The annual award is highly coveted and presented by the Journal after a short list is compiled by a third party. True to the meaning of its name, Krilogy continues to demonstrate its pursuit of the "art of accomplishment."
The company has built an exceptional culture under the leadership of Kent Skornia. From day one, Krilogy has focused on building the kind of place where advisors can learn and grow from one another. Transparency and teamwork are their hallmark, with a commitment to helping each team member flourish.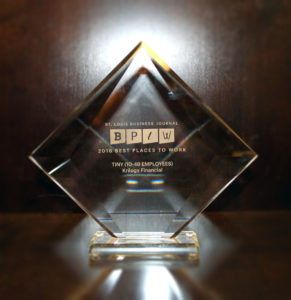 Skornia reveals something about the heart of his company. "This award became possible, in part, because of one key question I like to ask potential future team members. 'Who do you want to work for? Your home office or your client?' This mindset of focusing on clients first has helped us build a team of great advisors who live our values of dedicated, abundant, leadership. Our team, and the culture we live each day, has made awards like this possible."
Community involvement is highly valued at Krilogy. Charitable organizations and events are supported by the Krilogy team, as each member typically volunteers on the average of 15 hours every month. The American Heart Association's Heart Walk, Responder Rescue Inc., The Little Bit Foundation, St. Louis the King School and others have all benefitted from the efforts of the Krilogy team.
Krilogy's growth is a product of its service ethic. In 2015, Krilogy expanded into St. Charles County and has plans for additional future locations. Two advisors were recently added to the team, with more to follow in 2016.