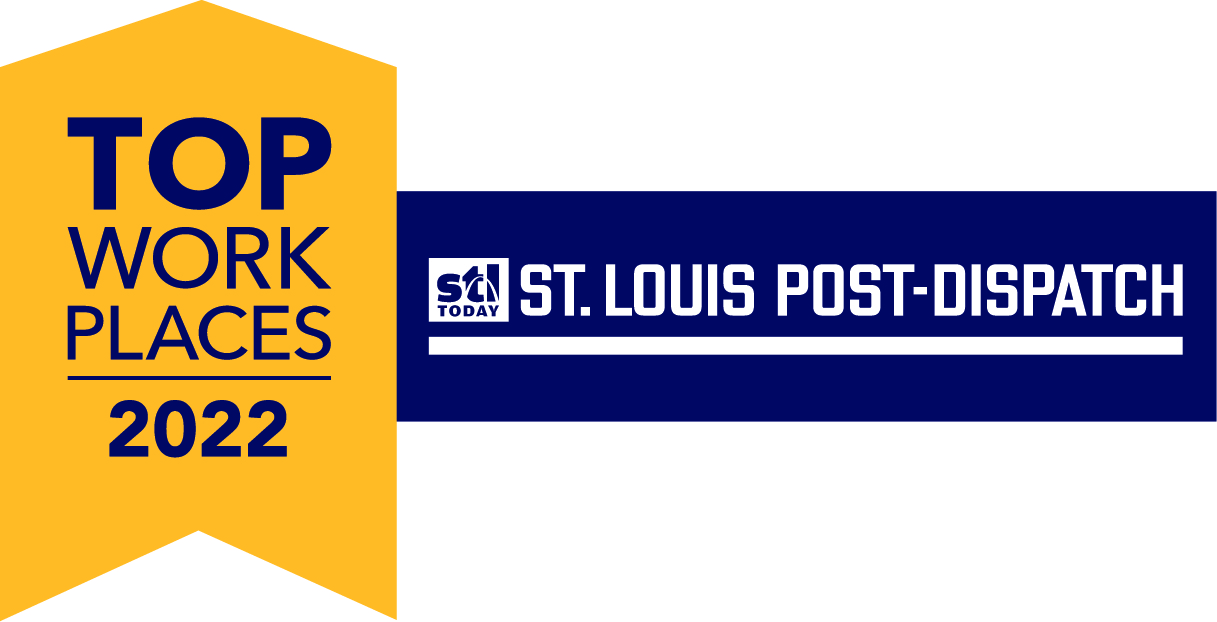 St. Louis, MO – For the second year in a row, Krilogy® has earned a Top Workplaces Award from the St. Louis Post-Dispatch. This recognition follows the firm's recent placement among Inc. Magazine's Best Workplaces in the U.S., and is one of the many awards Krilogy® has earned for exceptional workplace culture since its founding.
"As we've grown, we've been very deliberate about taking steps to ensure that our values-based culture flourishes," said Kent Skornia, Krilogy® President and CEO. "This is evident in the passion of our teams who report that, not only are they excited to come to work each day, but they also feel a great sense of career fulfillment as they excel in our environment and live our purpose: to inspire, to serve and to enrich lives. Team members are supported here at Krilogy® in a way most haven't previously experienced. This allows them to grow their careers while serving others with a sense of great purpose."
Krilogy's values of dedication, abundance, leadership and respect are ever-present in the organization's work and interactions. The firm's team-based culture empowers all team members to work together, bringing their unique perspectives, areas of expertise and experiences to support the development of clients' wealth management plans. The new Krilogy® headquarters, located in Creve Coeur, was designed with both in-person and virtual collaboration in mind, while a welcoming atmosphere greets all team members, clients, and visitors. Krilogy's new on-site training center promotes ongoing professional education and development of leadership skills.
"Everyone has a voice at Krilogy® and we always encourage constant communication and feedback about how we can further enhance our employee experience," said Skornia. "This has helped guide everything, from the evolution of our benefits to the new training center. Many things have resulted from the feedback we receive throughout the year, at quarterly firm meetings and at our annual retreats. We listen to the needs and perspectives of all team members, and work to respond in a way that creates value."
Since its founding in 2009, Krilogy® has earned a solid reputation for its workplace culture, consistently winning both national and local awards each year. In addition to the Top Workplaces Award, the firm is a multi-year recipient of Entrepreneur Magazine's Top Company Cultures Award, Inc. Magazine's Best Workplaces Award, as well as the St. Louis Business Journal's Best Places to Work Award, among others.
The Top Workplaces award is based solely on employee feedback gathered through a third-party survey administered by employee engagement technology partner Energage LLC. The anonymous survey uniquely measures culture drivers that are critical to the success of any organization: including alignment, execution, and connection – just to name a few.
For more information about the St. Louis Post-Dispatch Top Workplaces Award, please visit: https://www.stltoday.com/business/local/winners-of-the-2022-top-workplaces-awards/article_5c1a80ac-b2cb-5ebd-83e5-5d7f39d3b72e.html
About Krilogy®:
Krilogy® is an independent wealth management firm known for its relentless effort to develop
strategies and manage clients' wealth, fostering a sense of confidence and readiness for the future. Founded in 2009, the firm takes an institutional-style approach, and has a disciplined, dynamic rebalancing process that leads to less volatility in returns. From 2014 through 2018 and again in 2021, Krilogy® was named to the St. Louis Business Journal's list of the Fastest Growing Companies in the region, as well as the INC 5000 list of the country's fastest growing companies from 2014-2021. The firm was named among St. Louis' "Best Places to Work" in 2021 by the St. Louis Business Journal for the sixth time. Krilogy® has also been honored by the St. Louis Business Journal with the publication's "Best Places to Work for Young Professionals" in 2018, and the "Advancement of Women" award in 2020. The firm was recognized by the Women's Foundation of Greater St. Louis in 2020 for demonstrating excellence in workplace gender equity. In 2021, the firm earned a spot among InvestmentNews' annual list of the Best Places to Work for Financial Advisors. Inc. Magazine named Krilogy® among the nation's Best Workplaces and the St. Louis Post-Dispatch recognized the firm among region's Top Workplaces in 2021 and 2022. In 2017 and 2018, Krilogy® received a Top Company Cultures award from Entrepreneur Magazine. Krilogy® was also listed in the 2016, 2018, 2019 and 2020 Financial Times FT 300 list of the country's top Registered Investment Advisory (RIA) firms. For additional information and disclosures about awards and honors received by Krilogy® and its advisors, please click here or call 314.884.2800.