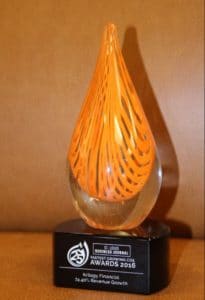 2016 marks the third year in a row that Krilogy Financial has earned a position on the St. Louis Business Journal's annual list of the area's Fastest Growing companies. The list, researched and compiled by the St. Louis Business Journal, ranks companies by revenue growth over a three year period from 2013-2015. Krilogy's growth rate of 74.4% places the firm in the top 25. Krilogy is the only St. Louis financial services firm on this year's list.
Krilogy President and CEO Kent Skornia attributes Krilogy's growth to the addition of the St. Charles County office, new client acquisition, growth in Krilogy's Retirement Plan Advisors group and Private Client Group. In addition, Skornia notes: "Krilogy is currently in acquisition mode and will be making announcements soon that will significantly grow our assets under management, which we expect to exceed $600 million before the end of 2016."
Krilogy currently has 32 team members, with plans to hire six additional team members, primarily advisors, this year.
Skornia also noted that Krilogy has also experienced growth due to the development of the firm's young advisors through the Krilogy Advisor Development System (KADS), which pairs them with senior advisors to help them learn and develop their business.
The article on Krilogy's growth can be viewed on the St. Louis Business Journal website.