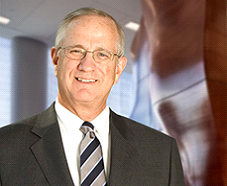 Krilogy Client Jim Virtel
Retired Partner with Armstrong Teasdale LLP
For the second year in a row, a Krilogy client has been chosen to provide advice to readers of the St. Louis Business Journal on the topic of How to Choose a Wealth Manager. The annual column features area professionals sharing their stories and tips, and how they interviewed and ultimately selected the wealth managers they currently work with. Jim Vitel has worked with Krilogy for a number of years, and retired in 2014 from Armstrong Teasdale, where he was a partner. Jim is featured in the March 27, 2015 issue. An excerpt of the article:
As important as finding a wealth manager with the right education, training and experience in managing money is feeling confident he or she places you interests above their own, according to Jim Virtel. He retired last year as a partner with law firm Armstrong Teasdale LLP and uses a wealth manager.
"From having contacted several, it surprised me how often I felt the person I was looking to for advice had a double loyalty, and I was being encouraged to invest in things that were part of that adviser's program but were not in my best interests," Virtel said.
Responsiveness should be a factor, Virtel said, adding it's important that the wealth manager get back quickly on a call about a question or issue or potential investment idea.
And it's important the fee schedule be made clear, he said. "I want to know every year what it's costing me," Virtel said.
Jim's Advice:
Find someone loyal for your long-term goals
Make sure the fee schedule is clear
In 2014, Krilogy client Richard Feldman, Partner with Husch Blackwell, was included in the How to Choose a Wealth Manager column. Feldman has worked with Krilogy since 2009. His advice was to get referrals from those you know and trust, and gauge education and experience level of the wealth manager you're considering.
The Krilogy team thanks Jim and Richard for their support, and for sharing their experiences with the St. Louis Business Journal.