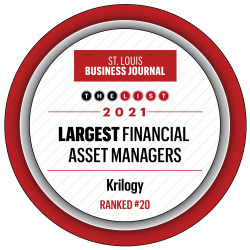 The St. Louis Business Journal recently released its second annual list of the Largest Asset Management Firms in the region, ranking them according to total client assets as of December 31, 2019. Krilogy® is pleased to announce that the firm has once again been named to the list, moving up to #20 for 2020.
Krilogy® continued its growth pattern throughout the past year, increasing assets from $1.29 billion at the end of 2019 to nearly $1.6 billion at the close of 2020. The firm, which focuses on client readiness and overall wellbeing, guides clients through the wealth management process from plan creation and asset management to tax and estate planning.
"At Krilogy®, we believe in steady, deliberate growth that is driven by our values of dedication, abundance and leadership, and a commitment to always adding value to the client experience," said Kent Skornia, President and CEO. "That focus has led to the addition of amazing and talented team members who guide clients through their financial lives while operating in an environment of teamwork that's unique in our industry. I'm proud of what we've been able to accomplish together and look forward to welcoming more wealth management professionals and clients who share our values."
The firm has been recognized regionally and nationally for its values-based culture as well as its initiatives for diversity and in support of young professionals. In 2020, Krilogy® was honored with the St. Louis Business Journal's Advancement of Women Award and was named a Top Place for Women by the Women's Foundation of Greater St. Louis. Additionally, the firm is a multi-year recipient of Entrepreneur Magazine's Top Workplace Cultures Award and the St. Louis Business Journal's Best Places to Work Award, most recently earning the publication's Best Places for Young Professionals honor in 2018.
Since 2014, Krilogy® has been named to the Inc. 5000 list of the country's fastest growing privately held companies, earning a spot in the Inc. 5000 Hall of Fame in 2018. The firm has also been listed on the 2016, 2018, 2019 and 2020 Financial Times FT300 list of the country's top Registered Investment Advisory (RIA) firms.
Krilogy® remains in growth mode and continues to recruit wealth advisors to join the team.
The list of this year's Largest Financial Asset Management Firms can be found on the St. Louis Business Journal Website.
Largest St. Louis-based financial asset managers ranked by total value of client assets in 2019. This includes discretionary assets under management and assets under administration. Values are as of Dec. 31, 2019. Information on the list was supplied by S&P Global Market Intelligence.