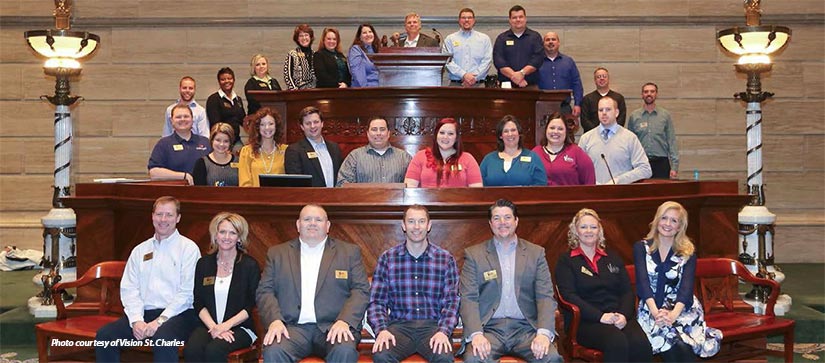 Michael Brown, Director of Branch Operations for Krilogy St. Charles, has a special place in his heart for the county's aging population, serving on numerous committees and presenting to older audiences through the Delmar Gardens Speaker Series. So it's no surprise that when it came time to choose his Vision St. Charles project to cap off his work as a member of the Class of 2015, he and his team focused on providing support to seniors.
After reading a recent study published by the Harvard Joint Center for Housing, Michael learned that the U.S. is very unprepared for the housing needs of our aging population. Yet through his work in the community, he knew that there were resources to help, so he and his team established the Seniors Count Initiative 2016, a new community effort to help improve the health, nutrition, and quality of life for people over 60 in the region.
A large part of the initiative revolves around helping seniors to stay in their homes longer. This is important because supporting a senior living at home is only one quarter the cost of institutional care. With that in mind, the team set out to provide information, and a pool of available resources in St. Charles County that seniors could call on to help keep them safely in their homes for as long as possible.
The team began by analyzing what resources members of the aging population would need. Those included general home repair; exterior and roof repair; ramps, accessibility and grab bars; weatherization, furnace and AC; graffiti removal, safety and lead abatement; financial assistance. They then created a matrix and guide containing over
20 agencies that seniors could contact for help in all of these areas.
An educational campaign for the initiative is already underway, with its kickoff taking place at the final Vision St. Charles 2015 meeting. Vision St. Charles County is a leadership program with the goals of informing leaders about the challenges and opportunities facing the state, encourage collaboration, and inspire leadership potential. Vision members are chosen through an application process, and attend the year-long program which ends with presentation of leadership projects and official
commencement.
" Within the next 15 years, the older population in our community will grow from 40 million today to 72 million by 2030," said Brown. "Our goal is to get the Seniors Count Initiative passed, appoint a board, and begin raising the funds needed to help keep seniors in their homes and delay the need for institutional care, which can be
financially devastating to families."
Photo courtesy of Vision St. Charles