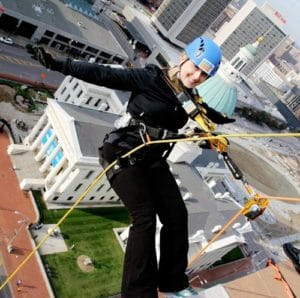 This year, Krilogy established a new community initiative called Krilogy Kares in which a charitable organization was chosen for the team to partner with in 2016. The Krilogy Kares partner for 2016 is the Special Olympics of Missouri, nominated by Megan Lockhart.
Megan began working with Special Olympics when she was in college, volunteering at bowling and basketball nights. She witnessed the excitement of the athletes, who were so enthusiastic to play the game, be with their friends, and participate in activities. As her relationship with the organization continued, she saw the athletes gain confidence, sportsmanship, and other key qualities that participation in the Special Olympics helped them build.
"I knew Krilogy would love to be involved in Special Olympics, as we have so many team members who are active in sports and other outdoor activities," said Megan. "So I proposed our involvement in the 'Over the Edge' event, where Krilogy could serve as a sponsor, and a team member could represent us in rappelling off the 17th floor of the Hyatt Regency Hotel in Downtown St. Louis. Everyone was excited to participate, and we began working towards our fundraising goal right away."
The hard work and commitment has paid off. Everyone in the firm is participated in the event, either by donating money or volunteering at an event. Krilogy met its fundraising goal, and officially became an "Edge Sponsor" for Over the Edge, which took place on Saturday, October 29th. Krilogy Partner and Director of Operations, Jaime Shelton represented the firm in rappelling 17 stories down the side of the building!