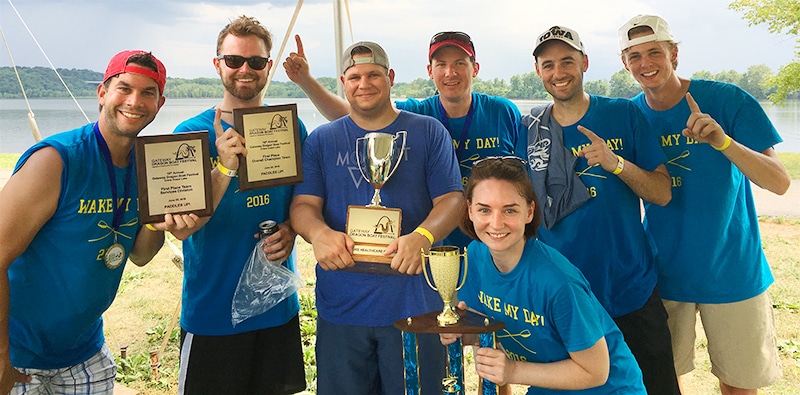 Gateway Dragon Boat Festival to Benefit Operation Family Healthcare
Earlier this summer, the Krilogy team participated in the 2016 Gateway Dragon Boat Festival at Creve Coeur Park. This is the third consecutive appearance by the team, dubbed "Wake My Day," who once again this year took home the First Place Trophy for their category. The event raised money for Operation Family Healthcare, an organization that assists families of patients with financial challenges.
Wake My Day was made up of 21 Krilogy team members and friends, who were all eager to defend their 2015 title again this year. The focus on performance, teamwork, and organization of the boat for maximum speed led Wake My Day to a first place win in the race inching out the second place team by a nail biting one-tenth of a second.
"It was a hard and intense day of racing, beginning at 8:35 and ending around 3:30," said Matt Haywood. "It was inspiring to see my co-workers and teammates really reach deep down for all they had left in them for that final championship race. They gave it all they had to go for the win."
"The Krilogy team has rallied behind this cause, and are enthusiastic in their desire to compete while raising money for a good cause," said Kent Skornia. "Now that we've got a couple of first place trophies under our belts, the energy level to participate is even that much more amplified."
The 2016 Gateway Dragon Boat Festival raised nearly $100,000 for Operation Family Healthcare. Wake My Day is already looking forward to the 2017 race, which will be held on Saturday, June 24th.