On April 11, members of the community joined the Krilogy Team as we celebrated the official ribbon cutting and open house at our St. Charles County office, located on Mid Rivers Mall Drive in St. Peters.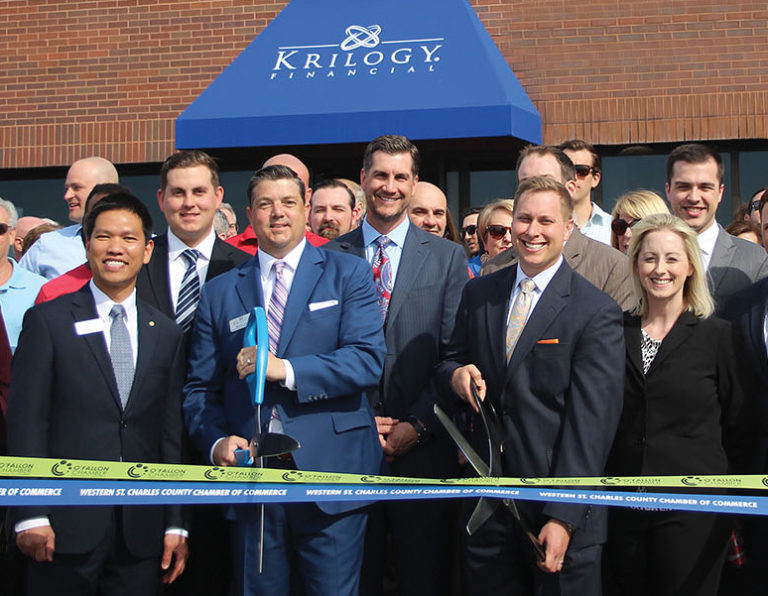 "When we were planning for the open house, we wanted to include a charitable impact with our celebration," said Michael. "Partnering with Brace for Impact was a natural fit, and we were touched by the generosity of our guests who purchased raffle tickets and supported the cause. Brace for Impact has been able to accomplish a great deal in Haiti."
The festivities included a fundraiser to benefit Brace for Impact, an organization founded by former Cardinals pitcher Kyle McClellan to serve children in an orphanage called the IDADEE Children's Home in Haiti. McClellan was on hand throughout the evening taking photos with guests, signing autographs, and discussing his initiatives in Haiti with attendees. A raffle was held, featuring Cardinals memorabilia and tickets to upcoming Cardinals home games. Over $1000 was raised, with all proceeds benefitting Brace for Impact.
Michael Brown, Director of Branch Operations at Krilogy St. Charles, has served on the Brace for Impact Board of Directors for the last four years, and traveled to Haiti to visit the children of IDADEE in 2016. While there, he was struck by the love and tenacity of the children he met, and by the success stories of former IDADEE kids who had gone on to start businesses or were preparing for higher
education. He looks forward to returning to the island to see the children again, and see the progress that's been made through the generous support of those who have embraced the mission.
Krilogy Financial® is a registered investment advisor. Information presented is for educational purposes only and does not intend to make an offer or solicitation for the sale or purchase of any specific securities, investments, or investment strategies. Investments involve risk and unless otherwise stated, are not guaranteed. Be sure to first consult with a qualified financial advisor and/or tax professional before implementing any strategy discussed herein.