Krilogy®, an independent wealth management firm with $2 billion in assets, has named Andrew Forrester and Kevin Reynolds as its newest partners. Both Forrester and Reynolds joined Krilogy® in 2014, quickly advancing into leadership roles while growing their own practices and supporting the team of advisors in their professional development. Krilogy® now has a group of 13 partners with the addition of Forrester and Reynolds.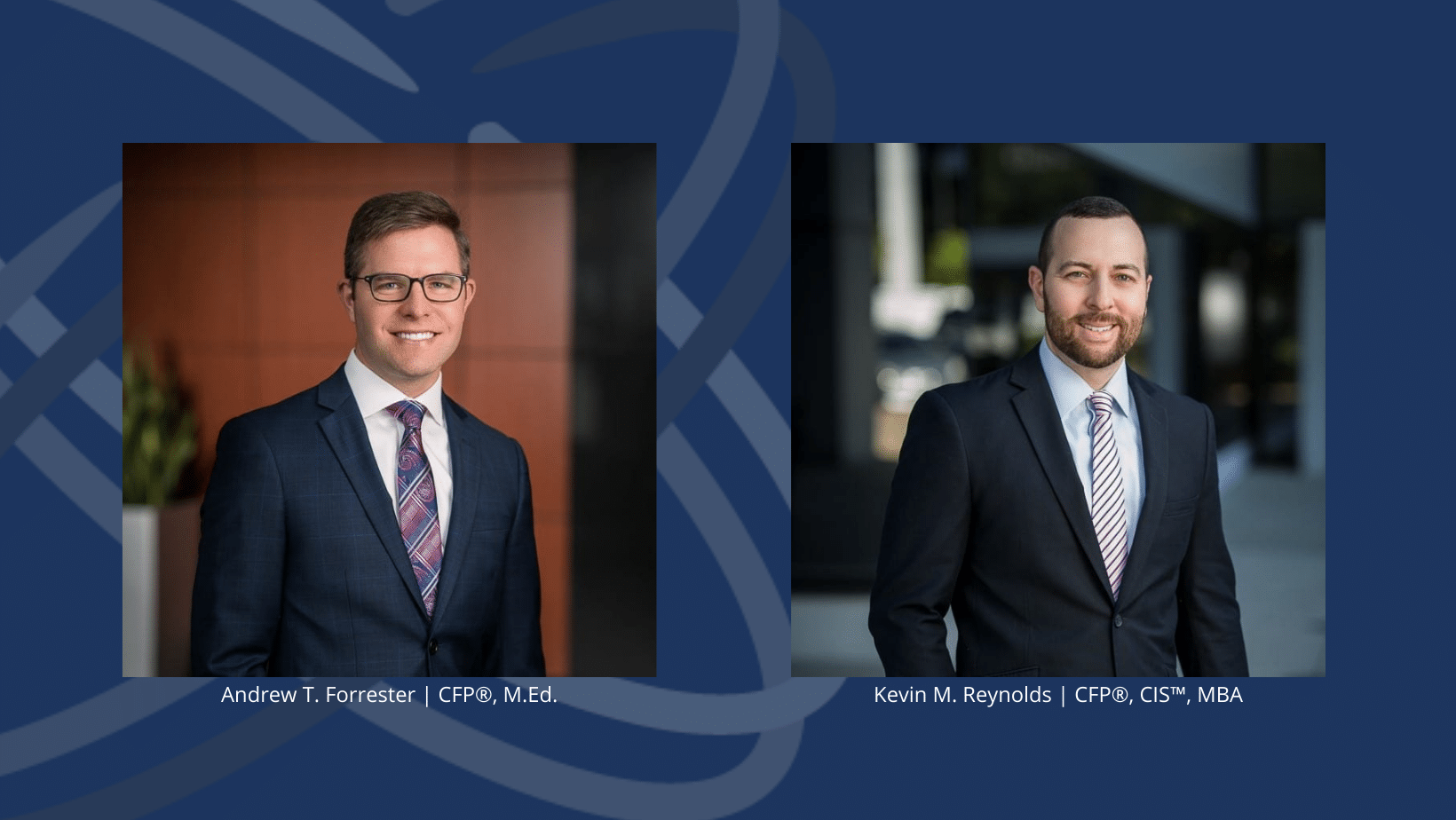 Forrester brought his background as an educator to Krilogy®, leveraging his communication style and financial acumen to share knowledge with his clients. He focuses his practice on medical professionals, established physicians, fellows and residents. Forrester served as head of Krilogy's Wealth Intelligence Committee for a number of years and has been a fierce advocate for the firm's culture.
"It's an incredible honor to be named partner and have the opportunity to leverage my passion for Krilogy® in this new capacity," said Forrester. "When I joined, I knew it was the right place to build my practice. Krilogy® is an independent, fee-based, fiduciary firm with a culture of excellence and the best team of people with whom you could ever hope to work. I look forward to continuing to serve as a leader and making an impact as a partner."
Reynolds is a team player at heart, successfully transferring the relationship-building and teamwork skills he honed as a professional baseball player to his career as a wealth manager. He shines as a leader at Krilogy, and was named Director of Advisor Development in 2019. In this role, he helps newer advisors learn the business, build close client relationships and grow their practices.
"The people at Krilogy® are special and have provided me with the perfect environment to thrive in my career," said Reynolds. "It was an emotional moment for me when I was invited to join the team of partners. It shows that I am trusted to serve others and the firm. I am fortunate to be a part of this special place that's become a family for me, my wife and my children. I'll continue to work with all of the advisors in our Creve Coeur office in my new role, helping our clients and team accomplish their goals."
Forrester and Reynolds join existing partners Michael Brown, Stephen Green, Matthew Haywood, Nathan Holt, Tom Lewis, John McArthur, Patrick Monahan, J. Patrick O'Brien, Bill Pohrer, Jaime Shelton, and CEO Kent Skornia on the firm's Executive Leadership team. Krilogy has 62 team members and three locations in the St. Louis area. The firm manages $2 billion in assets for families, high-net-worth individuals, trusts, and employer-sponsored retirement plans.
"Drew and Kevin perform at the highest level possible, both in terms of their own practices and in their commitment to serving others," said Skornia. "They are fierce advocates for our culture and our values of Dedication, Abundance, Leadership and Respect. Their contributions have led to the attraction of amazing talent, supported the success of their teammates, and empowered clients to feel prepared and ready for the important financial decisions they'll make in life. Drew and Kevin have impacted Krilogy's leadership for many years, and I'm excited to see the amazing work they'll continue as partners."
About Krilogy®:
Krilogy® is an independent wealth management firm known for its relentless effort to develop strategies and manage clients' wealth, fostering a sense of confidence and readiness for the future. Founded in 2009, the firm takes an institutional-style approach, and has a disciplined, dynamic rebalancing process that leads to less volatility in returns. Krilogy® was named to the INC 5000 list of the country's fastest growing companies from 2014-2021, the 2020 Financial Times Fastest Growing Companies in North and South America in 2020, and the St. Louis Business Journal's list of the Fastest Growing Companies in the region from 2014 through 2018, and again in 2021. Krilogy® is also listed in the 2016, 2018, 2019 and 2020 Financial Times FT 300 list of the country's top Registered Investment Advisory (RIA) firms. The firm has named among St. Louis' "Best Places to Work" by the St. Louis Business Journal five times. Krilogy® has also been honored by the St. Louis Business Journal with the publication's "Best Places to Work for Young Professionals" in 2018, and the "Advancement of Women" award in 2020. The firm was recognized by the Women's Foundation of Greater St. Louis in 2020 for demonstrating excellence in workplace gender equity. In 2021, the firm earned a spot on InvestmentNews' annual list of the Best Places to Work for Financial Advisors. Krilogy® received the 2017 and 2018 Top Company Cultures award from Entrepreneur Magazine. From 2020-2022, the firm was named among the St. Louis region's Largest Asset Managers by the St. Louis Business Journal. For additional information and disclosures about awards and honors received by Krilogy® and its advisors, please click here or call 314.884.2800.