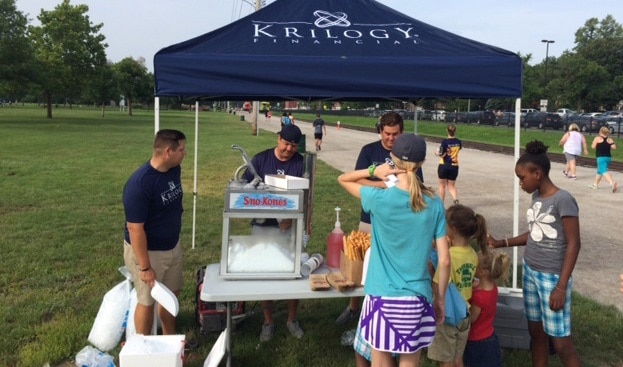 On Saturday, July 11th, 360 runners turned out for the 6th Annual Hope for Haiti 5k and 10k run in St. Charles' Frontier Park. For the second year in a row, Krilogy was a proud sponsor of the event and this year, in addition to our financial support, the Krilogy team provided runners and walkers with cool and tasty treats on the course – Sno Cones and Gus' Pretzels! Team members John McArthur, Michael Brown, Charles Schulz, and Nathan Holt manned the Krilogy tent, cheering on runners and making sure everyone – spectators included – received their goodies.
Hope for Haiti's mission is to support House of Hope in Haiti, a ministry dedicated to providing food, shelter, clothing and education to the children of Haiti. The organization cares for orphaned or abandoned children, operating children's homes, a school, and funding additional schools in the area. The 2015 Hope for Haiti run raised $12,000, 75% of which will go to the medical clinic at House of Hope. The remaining 25% will be used for buying supplies to package Kids Against Hunger meals that are distributed to the needy in Haiti.
"Our friend and client, Steve Tompkin, who is a Board Member for House of Hope, introduced Krilogy to the organization," said John McArthur, Krilogy's Senior Partner and Chief Investment Officer. "Many of our team members have a passion for helping children in need, so supporting Hope for Haiti was something that several of our advisors were eager to do. We're proud to be a part of the 5K and 10K run each year, and loved the opportunity to help raise money while putting a smile on participants' faces as they grabbed their sno-cones and pretzels. It was a fun and unexpected surprise!"
According to Tompkin, Hope for Haiti is in search of groups in need of community service hours such as Girls on the Run, Boy Scouts, and business groups that would like to help them pack and prepare Kids Against Hunger meals and supplies.
"The annual Hope for Haiti run continues to grow each year," said McArthur. "We look forward to continuing to support the organization with this event, and other activities throughout
the year."