At the time of this writing, the tragic spread of the coronavirus (COVID-19) continues to upend life in the United States and around the world.  Millions have been ordered to stay home, and businesses have been shuttered.  Obviously, financial matters are not a priority at a time like this.  This is a very difficult and challenging time for us all.
For those of you who do face an important financial decision, let us offer this perspective: Sadly, there have been other horrific challenges that are country has faced, although arguably few of them would rival the current crisis.  Yet, at times like this, our nation has proved its resiliency again and again.
Our great country has been and will continue to be driven by forces more powerful than the coronavirus.  Our democratic way of life.  Our spirit and vitality.  Innovation and entrepreneurship.  These are the things that make America great.  Our nation's people have indeed been blessed by a long history of prosperity and achievement.  But, in order to put today's events in their proper perspective, we must remember that our nation's history has also been marred by temporary, though often troubling setbacks.
Since the beginning of the 20th Century, the United States has experienced times of military crisis that included World War I and II, the Korean War, the Cuban missile crisis, Vietnam, the Gulf War and the more recent wars in Iraq and Afghanistan.  During the same period, the political arena has experienced Eisenhower's heart attack, the assassination of John Kennedy, and the resignation of Richard Nixon.
We witnessed the assassinations of Bobby Kennedy and Dr. Martin Luther King.  We've endured any number of financial setbacks, tumultuous periods and crashes.  Our economy has experienced periods of deep recession, prolonged, high unemployment, rampant inflation, high interest rates and the Great Depression.  And, yes, we have also experienced a variety of different virus outbreaks including a terrible global pandemic – the Spanish flu – that claimed an estimated 50 million lives in 1918.
In spite of these setbacks, our nation, over the long term, has persevered.
Your success as an investor depends on your own ability to maintain perspective in times of uncertainty and crisis.  The easiest thing in the world is to be optimistic in good times.  But investing is more difficult than being bullish when surrounded by good news and pessimistic when surrounded by bad news.  This is the equivalent of buying high and selling low.
Long-term investors, unlike short-term traders, stay focused on the things they can control.  They keep their emotions in check and realize that patience and discipline, not market timing, are the keys to investment success.
As difficult as this current period may be, now is not the time to abandon well-thought-out, long-term investment plans. It's unlikely that current market conditions have altered your interest in goals such as saving for retirement, paying the bills in retirement, reducing your tax bill, or providing for the long-term financial security of your family.
For those who are fully invested, our message is to stay focused on your long-term goals and the factors you can control, such as the quality of your investments and the diversification of your portfolio.
In time, the U.S. economy and the U.S. stock market will regain a more solid footing and resume its inevitable upward path.
In the meantime, our advice will continue to be, stay the course.  There is an end to this crisis.  We will persevere.
The illustration below highlights the importance of staying invested during difficult times.  It shows the five biggest market declines and the subsequent recoveries.  The first row shows the declines ranged from 48 – 86 percent.  Recoveries in the first year of recovery averaged nearly 71 percent.  The average annual total return for the five years of recovery averaged 23.15 percent.  While each market decline was unique, the lesson from history is clear: It doesn't make sense to make a long-term investment decision in reaction to short-term events.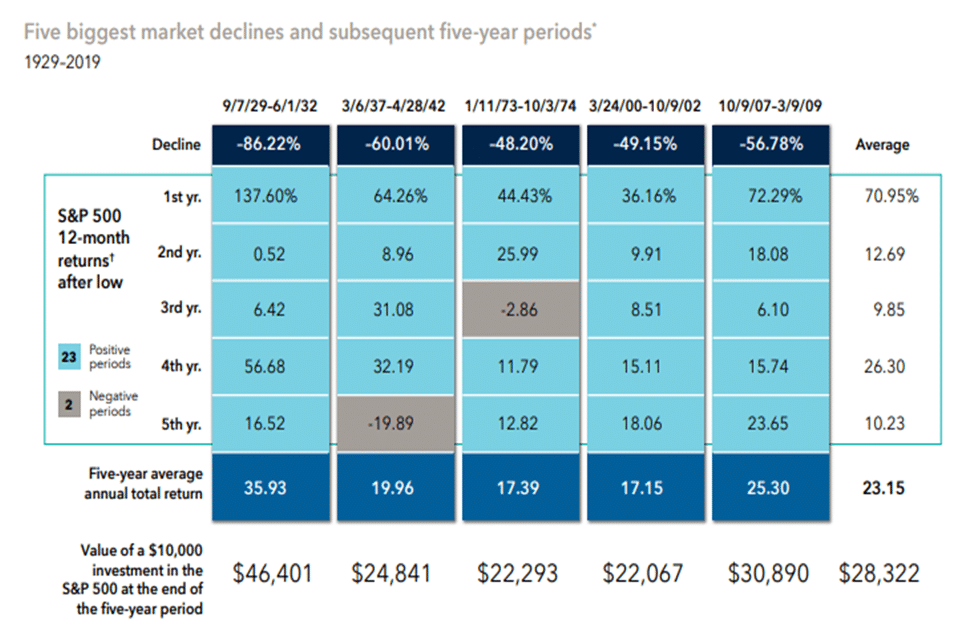 Reasons to be optimistic:
Never before in the history of the world have so many doctors, scientists, laboratories, corporations and governments been focused on a singular task: To defeat the coronavirus.
Never before in the history of the world have governments and central bankers provided so much financial support to support the economy.
This economic sudden stop was an intentional act designed to slow the spread of the virus. We believe, when the danger passes, workers will be allowed to return to their jobs and normal economic activity will resume.
Many investors want to be as successful as Warren Buffett, but are they willing to invest like Warren Buffett?
"When the market goes up and up, everyone looks like an investing genius. It's only when things go sour that you see who actually has a good long-term strategy."
"Success in investing doesn't correlate with IQ…what you need is the temperament to control the urges that get other people into trouble investing."
"Successful investing takes time, discipline and patience."
"Price is what you pay.  Value is what you get." – Warren Buffett
*Source: Capital Group / American Funds. Market Downturns are based on the five largest declines in the S&P 500's value (excluding dividends and/or distributions) with 50% recovery after each decline. †The return for each of the five years after a low is a 12-month return based on the date of the low. For example, the first year is the 12-month period from 3/9/09 to 3/9/10. The percentage decline is based on the index value of the unmanaged S&P 500, excluding dividends and/or distributions. Each market decline reflects a period of more than 80 days with 100% recovery after each decline (except for a 77% recovery between 3/9/09 and 4/29/11). The average annual total return and hypothetical investment results include reinvested dividends and/or distributions but do not reflect the effect of sales charges, commissions, account fees, expenses or taxes. Investors cannot invest directly in an index. Past results are not predictive of results in future periods.